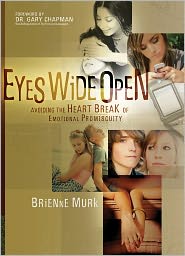 Whenever I discover a book that is written in any way on the topic of emotional chastity I add it to my list of books to read. A few weeks ago I finished one such book titled
Eyes Wide Open: Avoiding the Heartbreak of Emotional Promiscuity
by Brienne Murk. Below is my take on it.

Summary: Murk touches on many ways in which we can become emotionally entangled in relationships which prevents us from being able to give ourselves fully to our future spouse. Through personal stories from her life experience, as well as that of others, she highlights the importance of guarding one's heart, being patient and waiting for God's best, setting boundaries, and letting God be your first love.

Audience: This book is written primarily for high schoolers, but gives principles that can apply with varying degrees to any single or dating person. It does not directly apply these principles to married life.


Positives: Murk addresses a struggle that many Christians miss in their pursuit of living a chaste life, and that is an understanding that chastity isn't just about keeping your clothes on. She discusses the pitfalls of not guarding one's heart which can lead to becoming emotionally involved in a relationship too quickly. She touches on the negative effects of obsessive emailing and social networking and she gives practical advice for avoiding emotional entanglements.

Negatives: Overall the book speaks of many truths about the "other side" of chastity and the holistic approach of purity. For those who are interested in reading it, I give the following Catholic perspectives on some areas in which we disagree.


First, Murk states: "The bottom line is,
unless I'm ready to begin a committed relationship with someone
, I don't need to be fantasizing about them - no matter how innocent it might seem." (italics mine). Here she is referring to emotional mental fantasy, not physical mental fantasy. Emotional mental fantasies are those dreams we create where we start planning our wedding and naming our kids with Mr. Wonderful. What does not add up to me is that if fantasizing is wrong before you are in a relationship, why is it okay after? These types of games often end in heartbreak if the relationship doesn't end in marriage. More importantly, whether these fantasies are of a sexual or emotional nature, no person should ever be used as an object. Objectifying someone, or using them as a means to fulfill a personal end, is not in line with the dignity of a person.
Check out what Dr. Edward Sri has to say about this in an article he wrote on Bl. Pope John Paul II's (Karol Wojyla) book
Love and Responsibility
:
When we speak of a man using a woman, we tend to think of this in terms of him using her for sexual pleasure. However, Wojtyla highlights that men and women can use each other for emotional pleasure as well. A devoutly Christian man and woman can have a completely chaste dating relationship, but still be using each other for the "good feelings" they experience when together, for the emotional security of having a boyfriend/girlfriend, or for the pleasure they derive from imagining their wedding day with this other person and hoping the other will finally be "the one."
If I fall into such sentimental idealization, my beloved is not truly the recipient of my affections. Rather, the other person is more of an opportunity for me to enjoy these powerful emotional reactions stirring within my heart. In this case, I do not truly love the person for her own sake, but I end up using her for the emotional pleasure I derive from being with her. As Wojtyla explains, the beloved who is idealized "becomes merely the occasion for an eruption in the [person's] emotional consciousness of the values which he or she longs with all his heart to find in another person"
Second, Brienne ends the book with telling a story of Justin and Judy who were friends and only friends until one day God spoke to Justin and said he was to marry Judy. The next day he proposed, which Judy was fine with because out of the blue God had spoken to Judy and said the same thing YEARS before. Can the Lord work in that way? Yes. He did the same for Bls. Louis and Zelie Martin, St. Thereses' parents. But is that how He usually works... no.
Culminating a book in such a way gives the reader the impression that they are waiting for the Lord to speak directly to them in a clear voice with directions on who to marry and if they just wait around enough God will act.

If all singles were waiting for that we would have very few marriages.

It is more often that the Lord wants us to participate and be active ourselves in the process of discerning our vocation. He presents things and people in our lives and, ultimately, we choose which path to take. Sure, He knows what we will choose, but if we were forced into marrying a particular person then we would not have free will. So long as we have an active sacramental and prayer life and so long as we are seeking sound council, we will not mess it up. God will lead us, but sometimes he wants us to own our decisions and act with faith by making them.